RAWALPINDI: Chief of Army Staff (COAS) General Asim Munir stressed the value of bolstering cooperation between Pakistan and Afghanistan during a meeting with Afghan Foreign Minister Amir Khan Muttaqi. This is necessary to effectively address the two countries' shared challenges of terrorism and extremism. Muttaqi, who is currently on a four-day visit to Pakistan, met with General Munir in Rawalpindi, according to the Inter-Services Public Relations (ISPR).
The development of bilateral security mechanisms to strengthen the current security environment was one of the topics of discussion between the two leaders, as well as regional security, border management, and other topics of common interest. According to the military's media wing, General Munir also emphasized the necessity of the Afghan interim government's complete support and dedication on issues of mutual interest.
Muttaqi thanked Pakistan for its ongoing assistance to Afghanistan and recognized the crucial part that nation continues to play in promoting stability and progress in the nation. Additionally, he stated his desire to work closely with Pakistan to advance regional stability and prosperity.
Both parties recognized the value of continuing communication on a regular basis to develop their relationship and address shared issues. General Munir later reaffirmed Pakistan's commitment to an Afghanistan that is secure, tranquil, and prosperous.
COAS & Chinese Foreign Minister Qin Gang also met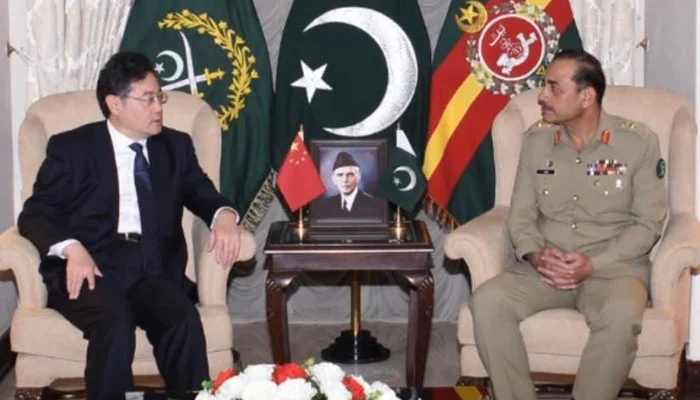 General Munir met with Qin Gang, the foreign minister and state councillor for China, separately at the general headquarters in Rawalpindi. They talked about issues of shared concern, such as regional security and defense cooperation.
The China-Pakistan Economic Corridor (CPEC) project, a crucial component of China's Belt and Road Initiative (BRI), and General Munir's commitment to the China-Pakistan Strategic relationship were both reaffirmed during the meeting. He also praised China's steadfast stance in favor of Pakistan on regional and global issues.
In addition to highlighting the significance of the long-standing strategic partnership between the two countries, Foreign Minister Gang expressed satisfaction with CPEC's development and reiterated China's commitment to the project's on-time completion. He also praised Pakistan's efforts to uphold peace and stability in the region, particularly the Pakistan Armed Forces' assistance in ensuring the safety of Chinese nationals and projects in Pakistan.
The changing security situation in the area was discussed by the army chief and Foreign Minister Gang. According to the ISPR statement, both parties decided to strengthen their current defense and security cooperation in order to successfully address shared security challenges. Both parties reaffirmed their commitment to further fortifying the enduring, all-weather friendship between Pakistan and China as the meeting came to a successful conclusion.